Quality Supervac was founded upon providing quality.
We are proud to say we have never lost a customer over a quality issue.

In March of 1997 I was working for a company that had employees hand-picking its parking lot. Keeping laborers on the job to do that job in the summer heat of Alabama bordered on the impossible. Turnover was constant and the job was often poorly done. However, the owner was concerned he wouldn't have control over a sweeping contractor if he used one. Besides, he couldn't find one he thought was detail-oriented enough to consider.
I approached him about handling the job of sweeping on the large property and, knowing my attention to detail and work ethic, an agreement was struck. I started with a used Schwarze model 343-I to keep my initial costs down.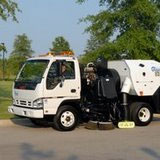 Within six months, though, word spread about the quality job being done and I had added a substantial amount of extra business. At that point I purchased a new sweeper, which I wanted in order to make sure we wouldn't miss a night due to a breakdown. Since then, I'm proud to say that Quality Supervac has been growing by leaps and bounds.
I also am a regular attendee at seminars at the National Pavement Exposition. Then, I bring the information I learn back to our employees in order to keep the services we provide up-to-date with the latest industry advances.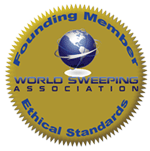 We are a founding member of the World Sweeping Association's Ethics Program, which confirms my commitment to running Quality Supervac with the highest standards. To learn more about this program, click on the logo shown to the right (PDF will open into a new browser window).

We took this step so our customers can be assured we are adhering to correct licensing procedures, have insurance, are dumping correctly and more. Since ours is a business where we are often on client properties when they are not present, we want to make sure they know we're doing our work right.

As the years have gone by, our customers have asked us to bring our high standards to bear in a variety of other outside maintenance areas. Today, Quality Supervac is the only call they need to make in order to get most any outside maintenance service handled. We now provide most all other types of exterior property maintenance needs.

For more information about Quality Supervac, or for a free professional assessment of your needs, give us a call or send us an email.

From all of us at Quality Supervac, we look forward to providing you with the best service you've ever had from a sweeping or maintenance contractor. Just let us know how we can serve your needs.

by John Parker, founder and president
Quality Supervac
---

For more information, give us a call or send an email.
6087 Castle Heights Road
Morris, Alabama 38116
Office: 205.281.9604
info@qualitysupervac.com

© 2008 – 2020 Quality Supervac. All rights reserved.