In addition to sweeping, Quality Supervac can also handle many other exterior and pavement-based maintenance and repair tasks for you.
In addition to sweeping services, we also offer the following services, either in-house or through our various working partners.
Parking Lot Striping
To enhance that professional look in your parking lot, Quality Supervac provides parking lot line striping. This includes providing our customers with the latest in handicapped and other areas. We use the highest quality materials for a long-lasting appearance.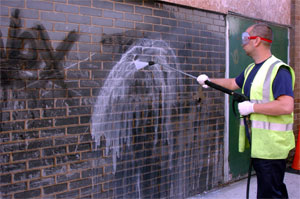 Power Washing
To add that sparkling clean look, Quality Supervac offers hot and cold power washing to clean and maintain your curbing and walkways. This service is often also ideal for graffiti removal and for cleaning the sides of buildings, machinery, etc.
Large Item Removal
Don't actually need the old couch, washing machine or other large item that someone left next to your loading dock? When unwanted items are dropped onto your property, our sweeper operators are often the first to spot them. We have arranged for many of our customers to just handle such unwanted items for them. We first take a picture of the item(s) that have were left, then take them away for you. Our goal is to make your exterior property maintenance as worry free as possible for you.
Tenant Vacancy Cleanout
One of our popular services is to make vacant tenant spaces ready for re-leasing. When your tenants change, we can remove any unwanted items and then make the space ready for the next tenant to move in. These services can include light repair, painting, etc. Just give us a call for a no-cost professional consultation on any project.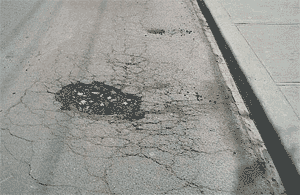 Pavement Crack Filling and Patching
To keep parking lot surfaces intact and easy to clean, Quality Supervac will fill and seal pavement cracks, as well as do pothole patching. This keeps weed growth to a minimum, which helps your pavement have a longer service life. Once any needed repairs are made, many clients find that a top coat of sealant will make the whole lot look new again.
Sign Repair
Our experienced crews routinely repair and replace signage and support posts that have been damaged or need updated. Having signage that is in place and in good repair has safety implications, as well contributing to the overall good looks of your property. Our sweeper operators are also trained to identify signage damage for you, and we will notify you immediately of any damage to signage or elsewhere that we spot.
Maintenance Crews
Quality Supervac also offers general maintenance crews to handle a variety of jobs that enhance your property value.
Preventive maintenance of your building exterior and parking lot will add to the longevity and value of your property, as well as create a safe environment for your customers and employees. Please let us know how we can serve your needs.
---

For more information, give us a call or send an email.
6087 Castle Heights Road
Morris, Alabama 38116
Office: 205.281.9604
info@qualitysupervac.com

© 2008 – 2020 Quality Supervac. All rights reserved.